Ricardo Pérez: A Dream Come True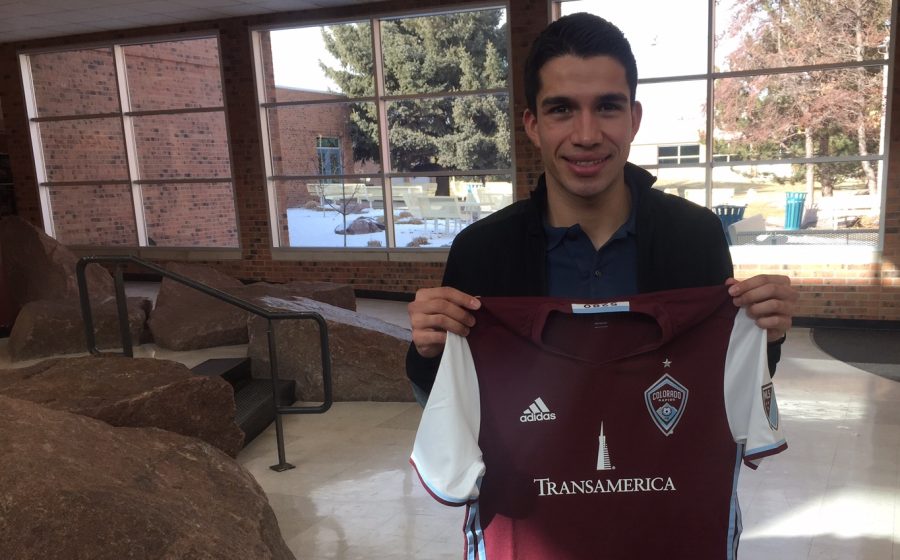 Cam Orr, Staff Writer
January 19, 2017
It's every young athlete's dream to make it to the big leagues; alumnus Ricardo Pérez, achieved his goal and is now playing professional soccer.
Pérez was signed by the Colorado Rapids on January 6, 2017. On the 23rd, he will begin the preseason practices. Pérez expressed how truly thrilled he is just to be practicing with the pros. His first game will take place in early March of this year.
"
If I didn't have that one person to help me just a little bit, I wouldn't be where I am today."
— Ricardo Pérez
What were your early ambitions with soccer and what position did you play?
I have been playing soccer for as long as I can remember. At first, I was just kicking a ball around with my older brother, Roberto. Once I turned 5 years old, I joined my first team. I started out playing in the midfield, which I have continued to do up to now.
How did your childhood affect soccer for you?
I was born in Mexico. My family and I moved around Mexico quite a few times before we finally moved up to the U.S. I was 8 years old when we moved to Fort Collins. A new country was definitely not going to influence my soccer career that I had begun in Mexico.
How did you use your family to better improve your soccer skills?
Outside of playing soccer on a team, I loved to practice with my brother, Roberto. Roberto was 4 years older, but age didn't stop either of us from having some fun together. My brother is one of my biggest inspirations and he inspired me more than anyone to continue playing soccer. If I didn't have that one person to help me just a little bit, I wouldn't be where I am today. 
Once you became a Rocky student, how did soccer relate to the Lobo family?
The moment I became a Rocky student changed soccer for me. I joined the varsity team as a freshman. I felt extremely honored. As a freshman playing strictly with upperclassman, I was the most nervous I had ever been in my life. During the quarter finals, we were playing our rivals at that time, Cherry Creek. It was a huge game, as they were ranked number 1 in the division. During the game, the ball ended up with me (I have no idea how it did). I scored that play and it caused us to win the game. That was the moment when I became known in the community.
Which meant more to you as a Lobo: soccer or school?
Soccer and school always came hand-in-hand with one another. Just like several other students, I was very focused on both of my passions in life, school and soccer. I valued each concept, but soccer was my life, my passion and joy. School is something you will learn then grow out of. Soccer is something I can always enjoy and continue to learn from.
What did you learn at Rocky that you are taking into the professional world? How did this help?
All in all, the one thing that truly matters in the Rocky community, soccer, and life is just to be nice to people. I learned this through soccer, classes, and my personal life, and I still value it and try to uphold this great life lesson. Just being around school can show you this, too. This took me, and still takes me, an extremely long way…
Pérez plans to carry his spirit of perseverance and passion into his professional soccer career.  
The Lobo family can't wait to support Ricardo.