Cancer Rates at Rocky and How Bos' Can Help
Hang on for a minute...we're trying to find some more stories you might like.
In the last two years, six RMHS students have been diagnosed with cancer. Taylor Bastian, who had brain cancer, passed away last summer, and Kate Prewett, who also had brain cancer, passed away last fall. Sheri Hone and Liv Fondy were both diagnosed with leukemia, Chevy McGee was diagnosed with lymphoma, and Carter Edgerly was diagnosed with osteosarcoma. The four seniors were, or still are, all treated at Children's Hospital.

On Wednesday, there was a RMHS fundraiser at Raising Cane's. The restaurant was packed with people who came to support these students who were diagnosed with cancer. As the Lobo community rallies, there may be a possible look into why so many students in the past years have been diagnosed.

This is a surface level look at the statistics of cancer diagnosis and its increased rate at Rocky and is in no way trying to draw a conclusion about this issue.

According to the CDC, the state of Colorado has 161 and 171 childhood cancer cases per 1,000,000 people. That's roughly 0.017% of the population. However, at RMHS, their were six cases out of 2,500 which is a rate of 0.20%. Whether this a stroke of bad luck or a health concern is the question of two RMHS teachers who contacted CSU and Children's Hospital about possible causes.

Kristin Olsson, an RMHS science teacher, contacted Tracy Nelson who is the Associate Director of the School of Public Health at CSU. Olsson was concerned about the rate of cancer diagnoses at Rocky and requested that CSU start researching possible factors, which they were willing to do.

Assistant Principal, Tyler Nickel, was also concerned about the rate of cancer diagnoses, so she consulted a doctor at Children's Hospital. Nickel said that it is unclear if this is an environmental issue, or just an unfortunate coincidence, but she supports CSU's involvement.

Mrs. Nickel said, "Because CSU is so local they're our best resource to see if something is going on."

So what can Lobos do?

The change drive for the next week provides an opportunity for students to donate whatever change or money they have to Children's Hospital. This will be happening during homeroom. There are also three more fundraisers, Cafe Mex Friday 3/1 (you will need a flyer), Torchy's Tacos Monday 3/4, and MOD Pizza Wednesday 3/6. You can also participate in Spirit Week next week and buy a No One Fights Alone shirt.

Remember 'Bos, we make the best impact by being supportive and by lifting up our fellow peers in their time of need.

`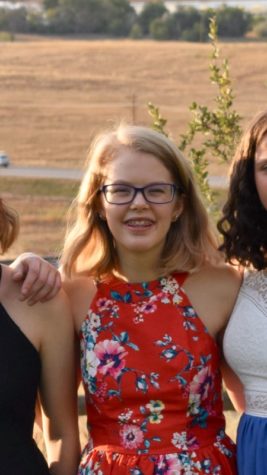 Payton Perkins, Staff Writer
Payton Perkins is a sophomore at Rocky, and this is her first year working on The Highlighter. She enjoys drawing, writing stories, and building sets for...