Lobos Support Student in Fundraising Basketball Game
Hang on for a minute...we're trying to find some more stories you might like.
The Friday night basketball doubleheader against Collins was packed with suspense and excitement. The girls game went into overtime and Rocky won with a narrow lead and the boys game was won by a landslide of almost 20 points. However, the biggest victory of the night was the support shown by the city of Fort Collins and Rocky to senior varsity player Carter Edgerly, who is currently battling bone cancer.

Carter's mother Michelle Edgerly said that Carter started feeling pain in his leg after basketball tryouts, where he finally made varsity after trying out all four years and getting on the JV team his junior year. According to a Coloradoan article earlier this January, Carter was diagnosed with osteosarcoma in December. Osteosarcoma is a bone cancer most commonly affecting teenagers and children.

During the basketball games, Qdoba and Subway were sold, along with baked goods, a silent auction, and a one-minute donation time. All of the proceeds from the food and auction prizes went to Carter Edgerly's family and his cancer treatment. The fundraiser ended up raising a total of $13,000.

Mrs. Edgerly said that this charity event wasn't organized by her family, but by the basketball team moms Lindsey Radcliff-Coombes and Nicole Knauer and the Rocky community as a whole.

"Our main job was just to play the game and just to support Carter in every way we can," said Pete Krohn regarding how involved the players were in the fundraiser. " I made warm up shirts for the whole team we decided to wear after the season, and we all got together to shave our heads. Our main thing was to play basketball and be supportive to Carter, as a teammate and a friend."

"Carter's a lovable guy," said Ben Knauer, a childhood friend of Carter's whose mother was one of the driving forces behind the organization of the fundraiser. "He opens [up] to everybody, wishes the best for everybody. The reason we wanted to do a lot of this is because his parents and family are really good people."

"[Carter's] really energetic," said teammate Joseph Urynowicz. "Always, like, bringing a positive vibe to every situation. I've always looked up to how he stays positive. I've always looked up to that aspect of him. He's honestly just a really good friend."

"He's not someone that makes it about himself," said Coach Brian Tafel, "that's why I'm sure Friday night was so overwhelming for him because he's not somebody who's ever been someone who wants to seek attention or wanna make it about him.

"

He's the ultimate team player, the ultimate team person."

— Brian Tafel, Head Coach

"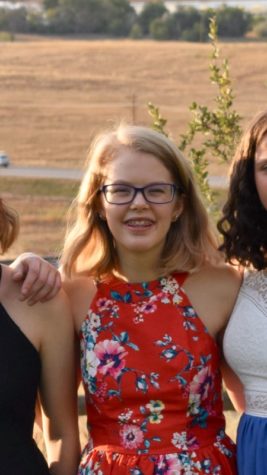 Payton Perkins, Staff Writer
Payton Perkins is a sophomore at Rocky, and this is her first year working on The Highlighter. She enjoys drawing, writing stories, and building sets for...