Comfort from Alums
Hang on for a minute...we're trying to find some more stories you might like.
Rocky has always been a big family and a supportive community that many have connected with over many years, so when former students were informed that their high school choir teacher Ms. Lueck was sick they decided to gather together to give her a heartfelt surprise that even got the attention of Good Morning America.
Over 50 Rocky alumni over the past 20 years got together at Rocky to sing one of Ms. Lueck's favorite songs that she and her students would often sing; "Seasons of Love" from the Broadway show Rent. The alumni got the idea after starting a group on Facebook to figure out what to do because they did not want to overwhelm Lueck with a lot of visits from her former students, Some of the alumni were unable to attend the gathering at Rocky but came up with the idea of recording themselves to be included in the video so the alumni could give Lueck at much love as possible
Lueck, who is battling cancer, was incredibly grateful to her former students for the lengths they went through to make her feel loved. She said she continues watch the video and wishes that she could have seen it in person so she could visit with her former student and so she could hear all the chatter and meet her students' children.
The former Rocky teacher continues to fight cancer and says that she is feeling better. The former students, Doug Usher and Amanda Huner, who started the Facebook page and organized the meeting of the students will be on GMA on October 22, and will be talking about the journey of getting together and the impact of music.
Click here to see the clip of when Lueck received the alumni video.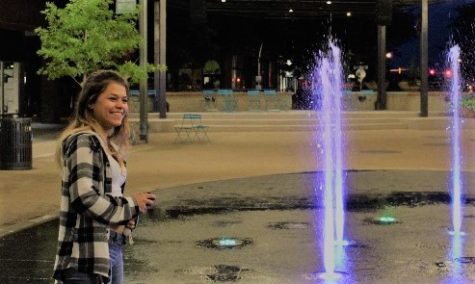 Bethany Rush, Staff Writer
Bethany Rush is a senior at Rocky Mountain High School. Bethany enjoys drawing and hanging out with her friends. After high school, Bethany plans on apprenticing...