Research Day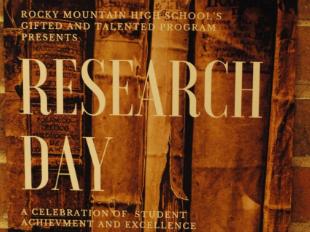 Hang on for a minute...we're trying to find some more stories you might like.
Academic research is headed to Rocky on Saturday, May 6.
The second annual Research Day, an event sponsored by the Gifted and Talented Program, will run from 12:00 to 4:00 pm in locations around the school.
The event showcases academic findings, such as papers, experiments, and proposals, that students must submit for approval before midnight on April 24. The projects will be presented either orally or visually on Research Day. The event is open to the public, and community members are encouraged to attend.
"The presentations are a really interesting way to learn about different subjects," said event organizer Amy Otteman-Freeman.
Although the GT program sponsors the event, all Rocky students are able to showcase their work. Last year, the event hosted 25 student presentations, but the goal is to have about 30 people presenting this year.
"We just started it last year," added Otteman. "[We] think it's important for students to see themselves as part of an academic community."