Library-Reference Material=?
RMHS Media Center Takes a Step Into the 21st Century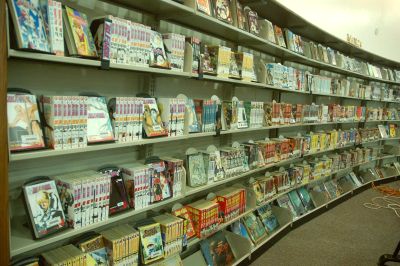 The Media Center is no longer just a place to rent books, but has evolved to fit the needs of a changing and modern student body.
Before 2012 the Media Center had an entirely different focus, centering around its collection of books. Book shelves occupied the majority of its floor space, the tables were traditional, and the screens that occupy the walls now were nowhere to be found. Computers, student laptops, and a large reference section were the limited resources which the library offered.
The Media Center has recently entered its latest stage and is working to adapt to 21st century students with 21st century needs. Students may have noticed as bookshelves had to be removed to make room for brand new items, like the massive screen.
"I've noticed the 3D printers and a lot more screens," senior Federico Larrieu said. "I notice a lot more students attending the library."
The library has considerably more open floor space compared to previous years due to the removal of the most of the reference section in order to provide a space for graphic novels.
"We are at a point where all the scholarly articles are more readily online than they are in print," media specialist Ben Johnson said. "I'm just trying to fill a need as more and more of that [referenceable material] is available digitally."
The Media Center is also evolving to better serve Rocky students and their material needs.
"We've got a miniature C&C mill so in addition to our 3D printers, students will be able to program a C&C mill to actually cut out metal," said Johnson. A C&C machine is a machine used to cut out sheet metal to exact measurements or design.
By incorporating these kinds of resources into the library, students will have the opportunity to use new technology for school projects and recreational use.
The Rocky Media Center is evolving to match the worldwide trend in modern libraries of offering better, non-literary resources as a part of their services.
"The trend with libraries really across the nation, and the world for that matter, is to shift from what used to be a library full of books, to more of a library full of physical things that people may not be able to afford," Johnson said. "We don't have one in our Media Center, but a lot of libraries have an expensive [KitchenAid] mixer as a popular item to check out."
As online research texts become more and more accessible, the library will continue offering new resources and services to cater to a modern, ever-evolving, student body.