$13,000 Friend
A 10 Year Old Boy Needs a Service Dog, the Community is Here to Help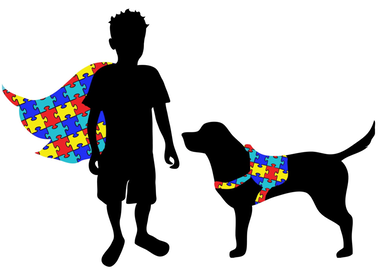 One in 68 children in the US have been diagnosed with autism, and this weekend our community has a chance to touch the life of one such child named Logan.
Logan is a 10-year-old boy with a form of autism that prevents him from doing many everyday activities, and for many children like him, an autism service dog can be a life changing resource. However, getting such a dog can be very expensive, the total for Logan's dog is about $13,500.
To help Logan's family get this much needed companion for him, a fundraising event will be held Saturday, December 3. The event is a 5K race/fun run and silent auction (booths provided by RMHS FCCLA).
"
He's an amazing boy!"
— Jessica Shaver
For Logan, his obstacles are three fold; he is nonverbal, he lacks safety awareness, and he has severely impaired body awareness. "Logan is pretty much entirely dependent on adult care," his mother, Jessica Shaver, said.
"Logan will walk right out into a street or off with a stranger. He just doesn't know that it's dangerous," she said. Some of his behavior even inadvertently causes him harm. "He rocks and bangs his body against hard surfaces to feel sensation," Shaver said, adding that this causes him to have bruises and sores. The type of dog he needs is specifically trained to help him overcome these challenges. Shaver said the dog will be tethered to Logan to keep him from getting into dangerous situations, or sit on him so he can feel sensation in his body without hurting himself.
Living without verbal capabilities, Logan can also get lonely. Although his family can communicate with him, it's hard for him connect with people outside of his home. Shaver hopes that a service dog will allow him to both have a companion with him wherever he goes, and provide something that other kids can relate to. "Kids will think, 'Logan has a dog, I have a dog too!'"
Despite all of these challenges, Logan's a happy and passionate kid. One of the things he is passionate about, and the inspiration for the event, is racing. He has even, with the aid of an adult, completed a triathalon. He was towed in a raft, pushed in a stroller, and pulled in a bicycle trailer, and when he crossed the finish line, it became a passion. Shaver wanted to "combine his passion" with the fundraising event.
RMHS FCCLA will be closely involved in the event. The sentiment of the race aligns both with the Lobo Way and the purpose of their club. "FCCLA really focuses on the family," said club president Meghan Jackson. "Since the dog will be such a big addition to their family, we want to encourage that healthy atmosphere and really help [Logan]."
Both Shaver and Jackson expressed their confidence that the community would step up and help them reach their goals. Beyond a fundraising goal, or a club's efforts, the event is about preventing Logan from missing out on things that other people already get to enjoy.
"He's an amazing boy," Shaver said, "He's so happy and easy going. I'm hoping [a service dog] will bring him even more happiness."