Scotty Milan, 14 Year Old Race-Car Driver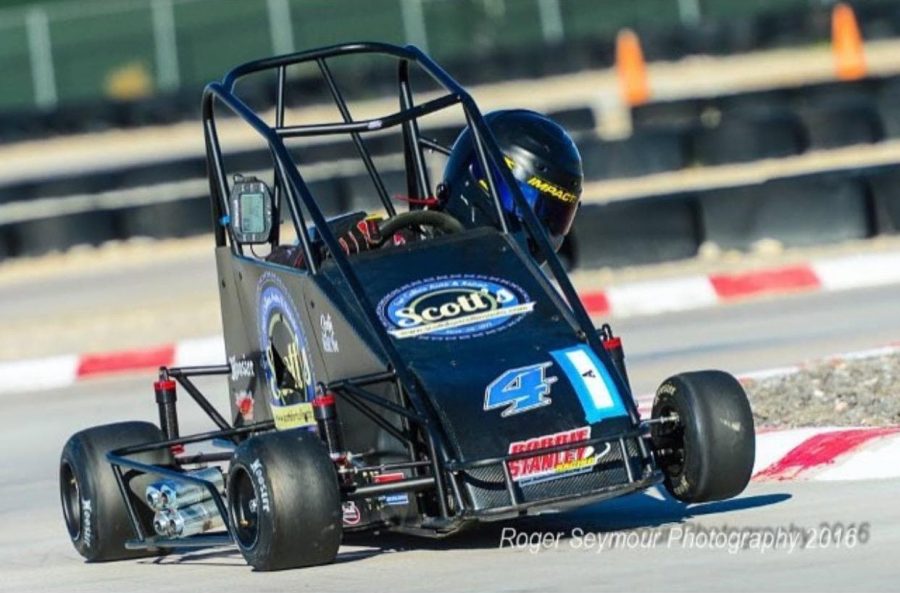 What do three time Daytona 500 winner Jeff Gordon and 14 year old Scotty Milan have in common? A lot, actually.
Scotty Milan, younger brother of senior Malia Milan, currently travels the country racing quarter midget race-cars. A quarter midget is a small, go-kart like vehicle that people aged 5-16 drive on 1/20 mile courses. They get the name from being ¼ as powerful as a midget race-car and competing on a track ¼ the length that midget cars race on. Drivers whip around small dirt or asphalt tracks at around 50 miles per hour.
"I started four years ago," Milan said. "My dad used to race. He sold all of his cars and bought me one, and we just went from there."
Racing is a family tradition for the Milan's, and cars have become a focal point of their family life.
"My grandfather raced and so did my dad," Malia Milan said. "They raced big cars. They raced legend and sprint cars together. So I've been going to race tracks my whole life."
Malia Milan also raced quarter midgets when she was younger, but gave it up to pursue gymnastics. Scotty, however, has stuck with it. He currently competes around the country with great success, winning national awards and aspiring for more as the season comes to a close.
"I've been racing all over," Milan said. "Last year I got Driver of the Year. I'm not sure how many wins I got this year. We did a lot of winning this year."
Milan travels outside of Colorado with his father and a mechanic who works on the cars.
"There was one race this year in Colorado. I had 3 in Vegas, a couple in Michigan, one in New Jersey, Pocono, California… all over the place."
As successful as Milan has been in the quarter midget leagues, he is looking toward the future of his racing career. fast-paced, miniaturized racing can provide an opportunity for young, aspiring race-car drivers to get their start on the track, and Milan is chasing a dream much bigger than his vehicle.
"You start up your own racing program and just progress from there, trying to get sponsors," Milan said. "That's how you get up to the big leagues. That's what I really want to do."
Milan's efforts have recently landed him a sponsorship , a company that sells parts for midget and sprint cars.
"(They're) this company called Speedway Motors and they just built a new car. They invited me to come race their race car this next year. I'm gonna race a big car and a quarter midget for them," Milan said.
Milan hopes that his deal with Speedway will lead to greater exposure and other money-making opportunities in the future.
"They have lots of money and I could get a sponsorship off of that," Milan said. "And then someone like Jeff Gordon could see me and want me to drive their cars."
So what do Jeff Gordon and Scotty Milan have in common?
"Jeff Gordon started with quarter midgets," Milan said. "And now he's in NASCAR."