College for Dummies
Hang on for a minute...we're trying to find some more stories you might like.
The College and Career Center is a great help, especially for upperclassmen. It can help them get a career they love and, hopefully, get into a college they can afford. However, it can also be helpful and useful for every grade if they start planning early. One key opportunity they offer is to talk with college representatives about their school.  
October was one of the busiest months for schools coming to Rocky and talking to students about their programs. Colleges  that are both in state and out of state sign up for times at all of the local high schools in the district on repvisits.com.
Ms. Fassnacht wanted to reiterate and make sure students know that in order to come meet with college reps, they can leave class. Students just need to talk to their teacher and leave and Ms. Fassnacht will send them back with a pass. Students  do not have to sign up ahead of time to come talk to a college representative.
It's good to keep an eye on the board outside of the College and Career Center, as it has all the details regarding which schools are coming that week. It's easy to read, and students just need to walk by on their way to class.
In the next few weeks, there are a lot of schools that will be coming to Rocky.
Monday, October 22, Denison University in Ohio at 10:15 a.m.
Thursday, October 25, Colorado State University at 8:30 a.m.
Thursday, October 25, Wartburg College in Iowa at 11:30 a.m.
Tuesday, October 30, University of Kansas at 11:30 a.m.
Wednesday, October 31, Arizona State University at 11:30 a.m.
Wednesday, October 31, Chadron State College in Nebraska at 1:30 p.m.
Thursday, November 1, University of Tennessee at 10:15 a.m. 
Thursday, November 1, Colorado Mountain College at 12:00 p.m.
The last one of the first semester is Friday, November 2nd and Gonzaga University in Washington will be here at 10:50 a.m.   
During these meetings the school usually provides a pamphlet that includes out of state costs and different majors they offer and some school swag. Students have the opportunity to sit one-on-one with a rep and ask them anything about the school, from sports to clubs–they know everything about the school. Students who are interested in any schools that are coming to Rocky should definitely make an appointment and come meet with the rep.   
This is a great opportunity to "travel" to a school without the expense.
Later in the spring there will be more schools coming to visit, but October was the main month for visits. This is  not only available to upperclassmen. Any Rocky students are welcome to attend the meetings and underclassmen are encouraged to come and get a jump on the college process.
For more information, Ms. Fassnacht is a  great resource and can answer any questions about college visits or college and career planning.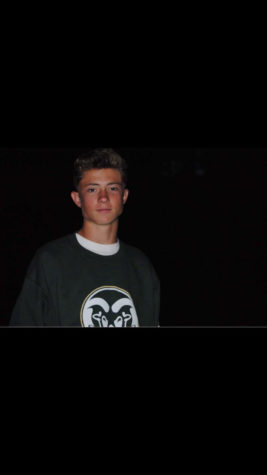 Max Hand, Staff Writer
Max is a senior at Rocky Mountain who plays varsity soccer.  He is going to be attending Metro State to play soccer next year.  He also has a twin sister...