Little Women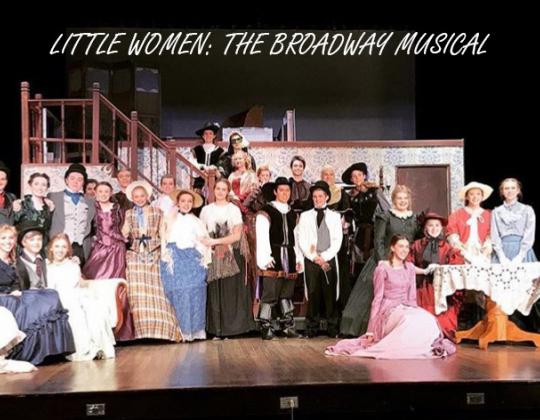 Little Women was performed by the cast at Rocky Mountain High School this past weekend, and there are only good things to say about it.
"Little Women," the recent production by the RMHS drama department, is based on a story about four New England sisters, Jo, Amy, Meg, and Beth. The story is set during the Civil War, and Jo, the oldest sister, desires to leave home and become a writer but ends up staying to help the family. Meg announces her marriage, which results in Jo moving to New York City to begin her writing career where she meets a professor named Professor Fritz Bhaer. While Jo is gone, Amy falls in love with and marries Jo's ex-love, Laurie. Jo is forced to come home when she finds out Beth is very sick.
One particularly well-done aspect of this weekend's performance of "Little Women"  was the set. I could tell that the crew worked really hard on it because it was so neatly done and added to each scene. They had multiple smaller sets and one main one that transitions well in between making them efficient in their movement. The set consisted of the main level and an upstairs; the upstairs was the girls' room and the main level was the rest of the house. When they were in a different setting they simply would just move the house set off the stage.
Another aspect of the play that I was really pleased with was the acting. Going into it, I wasn't sure what to expect and it far exceeded my expectations! The actors all did a really good job with keeping in character; they really brought the characters to life throughout the entire play. This made the play enjoyable and easy to follow.
In addition, the singing in this musical was impressive. I didn't hear one mistake during any of the songs, which shows how hard the students worked in preparing for this play. I really enjoyed the fact that they made the plot easy to follow even though most of the dialogue was singing, which can be hard to follow at times.
Overall I was really impressed with the production. Musicals are usually hard to follow and to understand, but this play was very well done. The set was very impressive, the acting was entertaining and I never found myself feeling bored. Lastly, the singing was impressive because every actor/actress nailed their parts. I'm looking forward to seeing the next play that Rocky puts on.