Trying out truffles!
Pinterest fanatics understand the need to try every DIY they come across on the very addicting website. I happened to scroll past a no bake truffle recipe and it seemed legit enough to try out. The outcome was a great surprise.
The ingredients were very easy to get and most are probably already in your kitchen. In total, I spent roughly 30 minutes preparing them and they needed another 30-60 minutes to chill.
I made the Oreo Truffles first. The ingredients for the Oreo Truffles are: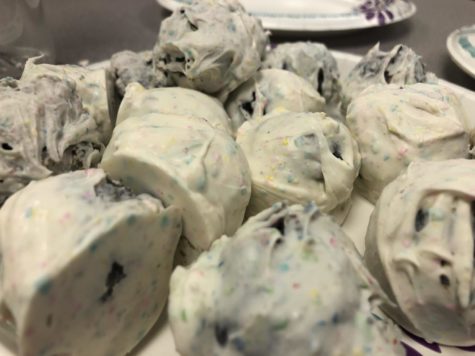 https://tipbuzz.com/oreo-truffles/
40 oreo cookies (crushed – and save ¼ cup for topping)

8 oz cream cheese

16 oz semisweet or milk chocolate

16 oz white chocolate or candy melts

Gold and silver sprinkles (optional)

Medium bowl

And a spoon/scooper.

Baking sheet
The second batch of truffles that I made were Cake Batter Truffles.
http://whoneedsacape.com/2013/02/no-bake-cake-batter-truffles/
The ingredients for this batch include: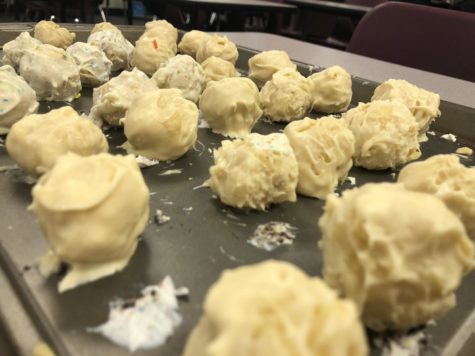 1-1/2 c. flour

1 c. yellow cake mix

1/2 c. unsalted butter softened

1/2 c. white sugar

1 tsp. vanilla

1/8 tsp. salt

3-4 tbsp. milk

2 tbsp. sprinkles
For the top of the truffles:

16 oz. (8 squares) almond bark or vanilla flavored coating

Sprinkles
Complete instructions can be found on the websites.
Both truffles were good and easy to make. My favorite was the Oreo Truffle and I'd like to make them at home for my family to try.
Some comments from The Highlighter staff taste testers were, "They were phenomenal. I would make them, but I wish my sister would instead," Max Hand said.
"I liked the Oreo ones, but the cake batter ones weren't my favorite because they were too sweet," Abi Loughrey said.
Callin Naddy helped me prepare them and said, "I liked the Oreo ones a lot better, but they were both good and they were easy to make."
"I liked the cake batter truffle because it wasn't too sweet like the Oreo truffle," Emma Mackey said.
When you have a free afternoon and a sweet tooth, these truffles are worth the short preparation time to make some for your friends and family.