Want Free Food?
Our neighbors serve it with purpose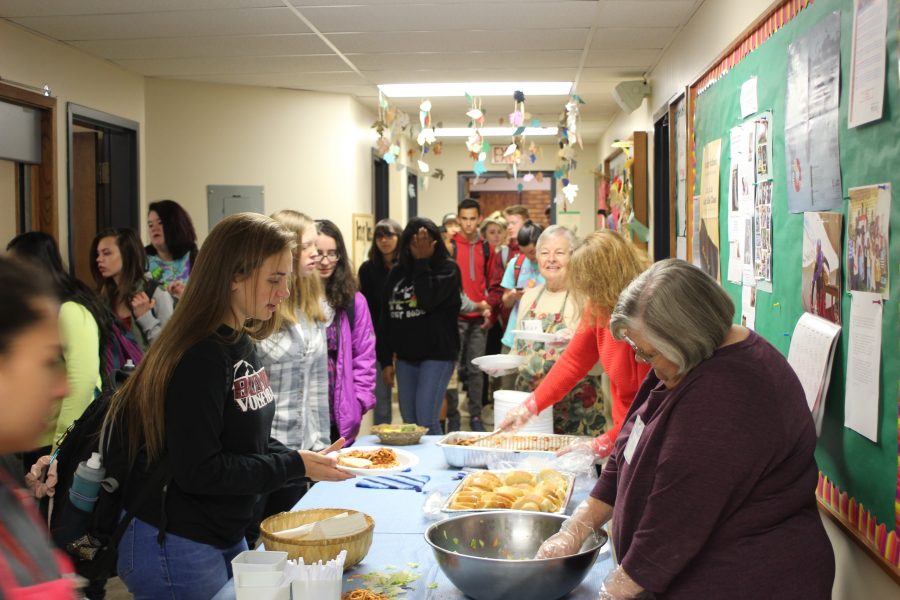 Bea Loeb, Staff Member
November 22, 2016
'Tis the season to spread love, but our neighbors at Peace With Christ Church spread love all year round by serving Rocky students lunches every Thursday during the school year.
Kay Strubel, a part-time staff member from the Peace with Christ Church, has a son who attended Rocky in 1992. He would visit Strubel at the Peace with Christ Church and eat lunch with her. For ten years, an increasing number of students continued to bring their lunches over in order to eat with their pastor. Finally, in 2002, the church opened their kitchen doors to all Rocky students.
So why continue to serve an average of 260 students a week? Their purpose is simple– love. 
"Jesus is love, and we love the children." Strubel explained, "We're planting the seed for them to feel okay in a church." Church members strive to promote a positive environment for the students.
Pastor David Magruder started working at Peace with Christ Church in August and saw a successful, safe environment right away. "I watch all the adults who have done this for years." Magruder said, "They don't do it for any other purpose than they love the kids."
Magruder has noticed a grateful attitude from the Rocky community. "When I talk to the students, every other one of them is saying thank you," Magruder said. "It's clear to me that they are thankful for everything that the people here do."
Through their kindness, Peace with Christ Church has gained respect from the Rocky community. "The benefit we've had is our parking lot hasn't been trashed," said Strubel. "We haven't had our nativity scene stolen in the last two years."
If you have not attended a lunch at Peace with Christ Church, Magruder encourages  students come. "They're going to have good food; it's not school. They can hang out with their friends, and people will be kind to them."