Think Before You Throw Away
Rocky's inability to recycle is damaging the environment and preventing us from receiving district funding.
Administration, led by Dean of Students Russell Stapleton, has been making an effort to show students the difference between trash and recycling this year in order to combat contamination of recycled goods that prevent Rocky from recycling at the same rate as other schools.
When students and faculty put non-recyclables in the recycling bin, it forces the school to throw the contaminated recycling away in the landfill. This is bad for the environment and negatively impacts school funding. The school has found that education on how to properly recycle isn't as complete as they would like it to be, and Stapleton's mission is to find a way to tackle that problem.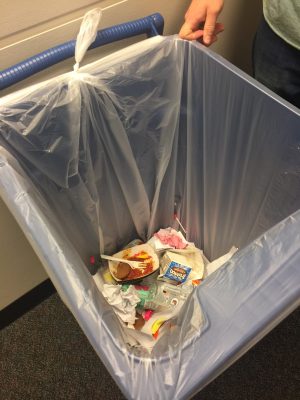 "Students are not understanding what is recyclable and what is not," Stapleton said. "There's more trash contaminating the recycling bin now than ever before. When the district puts out numbers (the recycling to trash ratio per ton for each school), they compare them from all the different elementary, middle, and high schools. This is how the district allocates resources to each school."
Schools receive funding to incentivize recycling which is determined by the rate of goods that they recycle. If a school is not recycling as much as others, it would receive comparatively less funding.
"If your numbers go down for some reason, they don't provide as much monetary support because they don't see as big of a need if we're on the decline," Stapleton said. "I think we'll fall [drop in numbers] this year, though I hope not. I have nothing to base that off of except for a conversation with our custodial crew and the district so far this year."
Rocky ranked third place out of the four comprehensive district high schools during the 2015-2016 school year. Fossil and Fort Collins had better rates of recycling, with Poudre coming in last. Rocky's recycling was, however, still low on the list with only 24% of our overall waste being recyclable. Olander Elementary was the top ranked school in the district with 55% recyclable waste according to the 2015-2016 district reports.
Stapleton is exploring techniques to make recycling easier and more accessible for students.
"One thing we've done is put one trash can with every recycle bin option in our building. Any trash container will be matched up with a recycling container to give all students the option (to recycle) in order to make that an easy choice," Stapleton said. "Every container has a trash and recycling poster. We've worked very closely with the Environmental Club to make it as simple as possible for all students to be conscious about where they put their waste. It only takes a second to figure out, 'Okay, which bin is this going in.'"
New ways to help students be successful with their waste management involve teaching incoming freshmen the difference between trash and recycling and upperclassmen setting a positive example for environmentally conscious and positive behavior.
"The underclassmen might be more willing to pick up on the habits, whether good or bad from the older classes," Stapleton said.
While students and staff try to be proactive in increasing recycling, Gallegos will not be collecting recycling until we are able to produce non-contaminated recycling worth collecting.