A Step Up For Rocky; A Committed Woods Class and Their Creative Charity Event.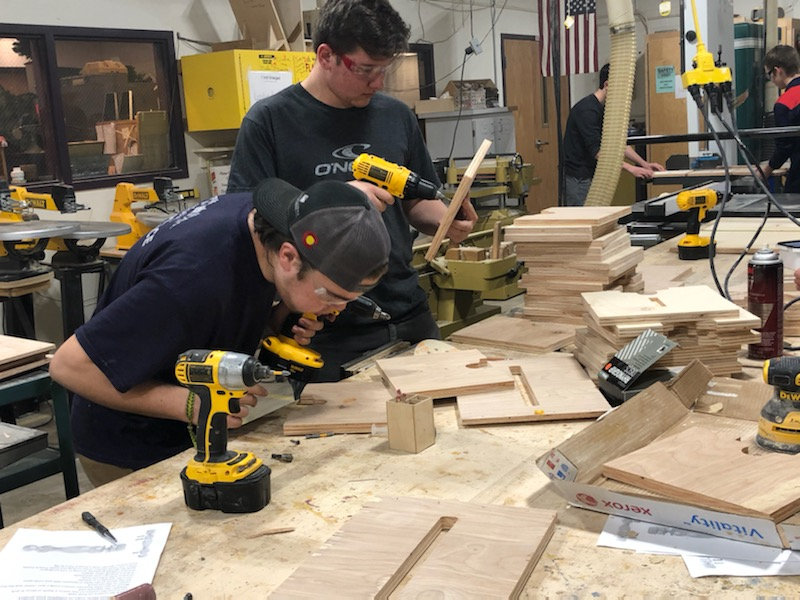 Mr. Weber's 3rd-period Woods class has been working vigorously for the last six weeks on a huge project: making step stools and donating the proceeds to the tech ed scholarship.
Jared Kinney is leading the advertising part of the project and he was very enthusiastic about its prospects. He has been in Woods and/or Woods II since his freshman year and now, as a junior, he and his classmates are exceeding expectations with their hard work and generosity.
"Everybody has their own job," Kinney said, "and things get passed along in a line of production." They have been working for seven weeks with this system and so far they have around 30 stepping stools. Their commitment is astonishing when considering their time and schedules.
These hand made stools will be sold for $25 if a non-personalized one is ordered. If you want to spice things up, you could also consider buying a customized step stool with your name or even a carving or a dinosaur. Of course, dinosaurs aren't the only design–despite, perhaps, being the best.
This project has brought people together, with both the receivers of the Tech Ed scholarship and the hard-working students involved enriching their lives in the process.
"It started out as just a project, but I think now people are more invested in it personally, through the group work aspect," Kinney said with a smile on his face.
If you are interested in supporting the woods charity event or if you just want an awesome dinosaur step stool, the order forms can be found online and in Mr. Weber's classroom.