Seniors Signing Off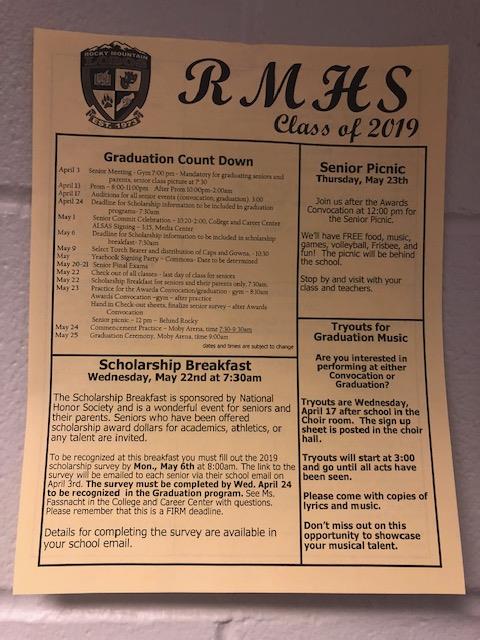 As the school year comes to an end, the seniors at Rocky Mountain High School have some wrapping up to do. These last two weeks of high school are packed with events and obligations that are important for seniors and the Rocky community to know about. .
On Thursday, May 16th, all Rocky students are responsible for picking up their 2019 yearbooks. Yearbooks will be distributed to students on the rocks after school. Each student who purchased a book should have received a yearbook ticket in their homerooms that they will then use to pick up their book. A red ticket indicates students have a personalized book and a teal ticket is a regular book. If students are unable to pick up their yearbooks on this day, they can see Mrs. White in room 224 in the media center to retrieve their books.  
In the following week, seniors will complete their final exams on May 20th and 21st. The last day of class for seniors is May 22nd. Seniors will be given class checkout sheets that they are responsible for filling out and turning in between 11:15 am – 12:00 pm in the media center on the 23rd. The checkout sheets include getting signatures from every teacher to insure all textbooks have been returned, checking in laptops and chargers, and completing the senior survey online. Seniors will receive their check out sheets on Monday May 20th in homerooms.
On Wednesday, May 22nd, Rocky will hold the annual scholarship breakfast for seniors and their parents at 7:30 am in the main gym. The breakfast honors and recognizes select seniors for their accomplishments and awarded scholarships. The breakfast is sponsored by National Honor Society. Seniors were responsible for signing up for the breakfast on their own by Monday, May 6th.
On Thursday May 23rd, seniors must report to the main gym by 8:10 am to practice for the Awards Convocation Ceremony that begins at 9:10 am. Convocation includes awards for students in all grades, musical and and dance performances, the announcement of the senior class gift, and the seniors final walk across the gym floor. The Convocation Ceremony is mandatory for all seniors to attend.
Following the Convocation Ceremony, students will then hand in their check-out sheets and finalize their senior surveys. The senior picnic will begin shortly after at 12:00 pm behind Rocky. Food will be provided and gluten free options will be available. This is also a good time for yearbook signing.
On Friday, May 24th, seniors have Commencement Practice at Moby Arena. Students must be there on time at 7:30 am and the practice should go no longer then 9:30 am.
"
Then on Saturday, May 25th, the day that all seniors have been awaiting will arrive!"
The graduation ceremony will begin at 9:00 am in Moby Arena. Students must be there by 8:00 am and doors open for family and friends to enter at 8:30 am. It is important for family and friends attending the ceremony to arrive early, as parking will be limited. Carpooling and finding alternative transportation options such as walking, biking, and taking the city bus are suggested.
These details should help seniors be where they need to be and finish out this chapter of their lives!