Lobo Display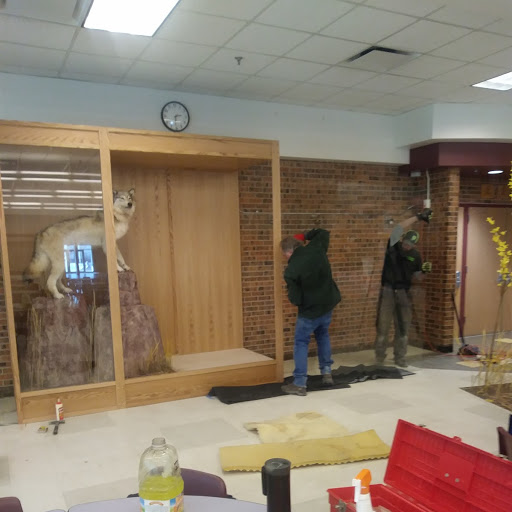 On Monday morning the students at Rocky Mountain High walked through the doors to see the former Lobo display replaced with a large case filled with three wolves exploring the nature of Colorado.
"
"I was nervous for this display, but I think it turned out great and does a great job representing the culture at Rocky.
— Mr. Stapleton
The idea for this new addition arose when people started to become underwhelmed with the original Lobo. Since then, there has been a long three-step process in the works since last November to amplify the display.
The first step involved the budgeting plan. The district provides the school with funds, however, if there is an invoice over $5000, Rocky has to get bids from other companies to find the remainder of the money. In this case, it took three bids and good negotiation to finally settle on a price.
The stars of the show, Wayne, Junior, and KB, were selected from the Wildlife Creations Taxidermy. All of them were hunted at one point since wolf hunting is still legal in some places. The white wolf came from Idaho, and the other two are from Canada.
Dean Russell Stapleton was part of the team involved with the creative thinking process for this display. "The idea of the display is that we are always increasing our pack. Instead of a solo Lobo, it's a family of them. It is going to continue a theme that we [Rocky] are a pack."
Senior Kaitlin Pryor said, "I think it's cool, but there's a weird blank spot. It looks like something's missing."
Although it seems barren now, the team has mentioned that there is more scenery coming. There are also plans to put lights inside to help with the sun glare off the glass.
It came as a shock for most students to come back to school and see this change. However, as far as the student's reactions go, the feedback has been mostly positive.
"I don't have a really strong opinion on it, but I think it's awesome that more students will see it because it's closer to where a lot of kids walk in. It frees up space in the music hallway too. Overall, I think it is pretty cool," Elliana Nickel said.
Maddy Clear and Olivia Tufte both agreed that it was "really cool" and it added something new and exciting to the school. "It definitely shocked me the first time I saw it just because the original Lobo has been in the same spot since I was a freshman," Tufte said.
The Rocky community is known for coming together during times of change, much like this display. This visual example of a pack should inspire us to keep that up. Let's show the people what a pack can do.