New Hall Monitor
Students may have noticed a new person constantly walking around the halls. Rocky has hired a new hall monitor and his name is Ruben Caro.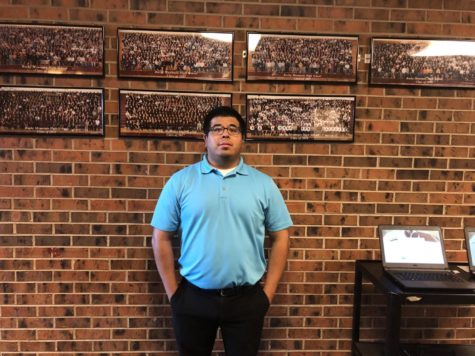 Caro was a former In School Suspension monitor for five years at Lucile Erwin Middle School in Loveland. Caro was born and raised in Fort Collins, graduated from Poudre High School and continued his studies at Front Range. Mr. Caro has a wife and three kids. He was hired to monitor the Rocky campus and to get kids to class
From 2013-2017 he was a coach at Blevins and was a football coach at Fossil from 2017-2018. "I have heard a lot of good things, but I'm not here to be a hammer and the mean guy. I'm here for the kids–for support and encouragement. I have an interest in football and would like to coach at Rocky," Caro said.  
Students who are out of class and wandering the hallways will find Caro checking in with them and asking them to get to class.
Rocky and other high schools in PSD are having trouble with students ditching classes and absentee students. The hope is that a hall monitor will minimize the number of students wandering in the hallway and the disruptions to classes, as well as get kids to class.
"I'm very happy and excited to see a hall monitor here. Today you never know what can happen and a hall monitor strengthens the safety here at Rocky…," said sophomore Allie Reynolds.