Foothills Food Pantry; Local Effort With Huge Impacts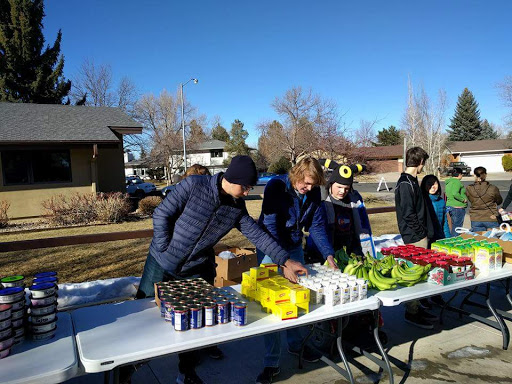 As Katie walks into the Foothills Unitarian Church Mobile Food Bank, she is greeted at the front door by name and starts picking out her food, fruit, veggies, and fresh meat thrown in with snack items like Oreo wafers. "Katie" isn't her real name, but she's one of almost 100 households that get vital food from the Food Pantry that helps people with buying food for their families when their income doesn't always support them.
Foothills Unitarian Church is an organization often described as a social justice church that invests in programs similar to the Food Bank across Fort Collins. They have been partnered with Larimer Food Bank since 2016 piloting the first Mobile Food Pantry of Larimer County. It runs on the second and fourth Sunday of every month from 2:00 pm to 3:30 pm, with some exceptions for holidays.
"We have a lot of people who are single parents, a lot of senior citizens," said Rebecca Parish, one of the main organizers for the Foothills Food Pantry. "A lot of families."
The clients at the Food Pantry were very diverse. Children from six months to middle school came with their parents, along with senior citizens attending alone. Veterans and multi-generation families also attended to help each other with food. A service dog accompanied a Vietnam veteran who was shopping. According to a study by Feeding America, the majority of recurrent food bank visitors are senior citizens.
"We've had a lot of people let us know that they weren't able to get to the food bank up north in Fort Collins or the one in Loveland, so this is like a lifesaver for them," Parish said. "They were not utilizing the food warehouses at all, in any way shape or form, so they aren't getting any help with food until we started the food pantry."
The Food Bank always tries to provide a variety of food to choose from, always including seasonal produce and hopefully bread and eggs. The yogurt company Noosa also donates some of their product to Larimer Food Bank. All of the food comes from the Larimer County Food Bank and Foothills Church pays for all of the food they provide at their branch.
One client in particular confided that she would not be able to take care of her grandchildren without the food bank, Parish said. Because of family matters, she cannot qualify for financial aid from the government.
"She said, 'I might not be able to put food on the table for these kids without this,'" Parish said.
Only church members can volunteer at the Food Pantry, however there are volunteering opportunities at https://foodbanklarimer.org/ along with more information about the larger mission of the Food Bank and other Mobile Food Pantries.
*This article was updated on April 10, 2018, to clarify volunteering and other details.