Everything You Need to Know About 2023 Rocky Prom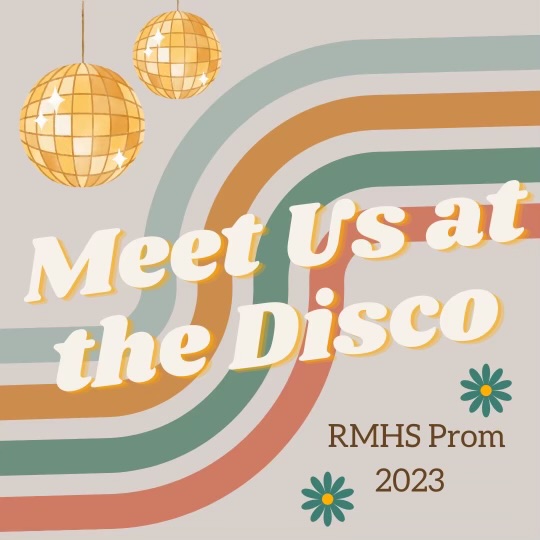 Last week, the junior class representatives from Student Council and Prom Planning Committee revealed the theme for Rocky's 2023 Prom. Using pipe and drape and various decorations that will be used on the night of the dance, they announced on the Rocks that the theme would be disco. The official name of the dance, "Meet us at the Disco," will be used for advertising. This is what the student body thinks. 
"I feel like it could be good if they decorate right, but if they do it wrong it could look really cringey," junior Jordan Olsheski said.
This seems true with most dance themes. Anything can be cringey if it is done wrong, and some are easier to fail at. In all honesty, disco is a popular dance theme and is fairly overused, but if it is reimagined and creatively executed it will look great.
Being the senior's last Prom, they had some strong feelings. 
"I think it is cliche and I am worried they won't do a good job. I hope they do, but I don't know." senior Marley Kesler said. "But that's also what I thought last year, and I ended up loving the theme for Prom and having so much fun." 
It is hard to put faith in a group of people who have never planned Prom, but that is how it works every year. Each group of juniors have experience with dance planning, but it is their first and last shot at planning Prom. Luckily, they have the support from a few experienced teacher representatives, their class sponsors. 
The junior class representatives of Student Council who are planning Prom this year are Izzy Nickel, Ruby Huber, Currie Zafarana, Ben Harding, Hadley Newcomer, Kaylee Hughes, and Sara Chicco. They are supported by their class sponsors Mrs. Weeks, Mrs. Defelice, Mrs. Wagner, Mrs. Maline, and Mr. Meyer. Together, they set up meetings, came up with the theme, booked the DJ, rented the venue, made decorations, and overall planned a very anticipated 2023 Prom.
"Planning Prom as a junior has been super fun but also very tedious, and a lot of hard work." says Nickel, a part of the junior class representatives. "We have been planning since August to make this event awesome."
"I think that very few students know how much goes into planning Prom, and this experience has been very tiring. I hope it is all rewarding and that everyone enjoys Prom this year!" she added. 
This year, Prom will be held at Canvas Stadium, 751 W. Pitkin Street, from 8:00-11:00 pm on the evening of April 22nd. You need to bring your ticket and Student ID to get into the dance. If you bring a guest, they need to bring their ticket and a form of ID as well. Tickets will be sold on the Rocks April 10th, 11th, and 17-20th. Senior tickets are $25, while all junior and guest tickets are $50. Prices will go up at the door for everybody, so make sure you purchase beforehand!
"I am just glad we don't have to dress to the theme," senior Quinn Stephens said.
Similar to Homecoming and unlike Winter Dance, Prom is formal, and you do not have to base what you wear on the theme. Personally, my dress looks nothing like what I would wear to a disco themed dance, and that is completely okay. The theme will sometimes dictate the type of music played, decorations, food, and people may even choose to dress to the theme, but that is not a staple for Prom. 
Immediately following the dance, Rocky will be hosting After Prom. You do not need to go to Prom to go to After Prom, but both are encouraged. At After Prom, there will be games, raffles, a ton of free food, and more! Do not feel pressured to stay in your formal get up for After Prom, just come and hang out. We are looking forward to seeing you all! 
As always, a reminder that Prom, After Prom, and all Rocky events are substance free. Stay safe 'Bos, and we will see you at the disco!