Meet Your Battle of the 'Bos Senior Contestants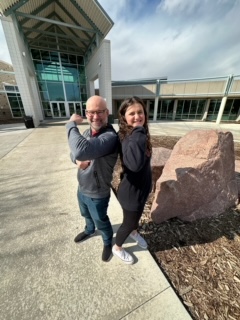 Battle of the 'Bos, an entertaining senior talent show, is coming up on Wednesday, April 7th. At 7:00 pm in the auditorium, you have the opportunity to see your favorite peers and their teacher of choice put on a show and raise money for charity! Let's meet some of the contestants:
Trey Lindenfield is paired up with one of his baseball coaches and a Rocky favorite, Cole Anderson. "The Lobros," have plans to blow the competition away, as well as raise a ton of money for their charity, Respite Care. 
Owen Wentz is a contestant who is also teaming up with a coach of his, Mike Mackenzie. They are supporting the charity March of Dimes, an organization that focuses on public health and specifically, premature babies. "I would have probably died if it wasn't for March of Dimes," Wentz said. "It is definitely something I care about." 
Lily Dubin is also working with a charity that is near and dear to her heart, the Immigrant Center of Northern Colorado. She is paired with Natalie Burgess on team "Chicks with Kicks."
"I have been volunteering at the Immigrant Center for a couple of years now, and I chose it because I have seen firsthand that they really do need help," Dubin said. "They do amazing work on integrating refugees into our community, including childcare and English classes. They have a heavy lack of resources and I wanted to help."
Both Lily and Mrs. Burgess have big hearts and big personalities, and are definitely going to bring the heat with their dancing skills. 
Julia Smith, one half of team "History Buff," is working with Andrew Shauer to support Trees, Water, & People. 
"I chose Mr. Shauer because we have the same sarcastic humor and I have taken two classes with him. Both times he gave me an A," Smith said. "In all seriousness I think he is a great person and we always got along during discussion." 
Julia and Mr. Shauer chose Trees, Water, & People because it is a local charity, and they have the common interest of environmental preservation and slowing climate change. 
Jack Ham is working with one of his choir directors Chris Thompson. They are working with the Against Malaria Foundation on team "The Super Ham Slam Fandango." 
"I picked Mrs. Wagner because she has been my counselor since I came to Rocky, and I have always had a great appreciation and relationship with her," Jett Neilsen said, one half of team "Brookie and the Jett(s)." Brooke Wagner and Jett are working with "La Familia," their charity of choice.
Hayden Puttlitz is paired with her favorite teacher, Kurt Knierim. They are sponsoring the Crossroads Safe House as their charity on team "Just Keep Swimming." 
"I had We The People with him and I think he's a really great guy who advocates for a lot of kids at Rocky who don't feel like they have a voice," Puttlitz said. "We are doing a form of synchronized swimming for our talent. I know he will be entertaining–so stay tuned for the muscle suit."
Alden Vieira and Elizabeth Hohweiler's team name is "Alden's Dynamic Duhoh," like Hohweiler. Knowing these two well, they will be a force to be reckoned with. They are supporting a charity that is near and dear to Rocky's heart, the Kayla Adsit Foundation. 
Team Smenkins is made up of Fiona Jenkins and Antoinette Smith. They are supporting the Alpha Center. 
David Dean Tostes-Ribeiro Mclaughlan is keeping it simple. He is teamed up with Ron Clark, and they make up the team "Ron & David." They have chosen to support the Cobalt Abortion Fund. 
The emcees of the night are senior Student Council representatives Charlie Dortch and Nora McCance. The show will be judged by the remaining eight senior StuCo reps.
Two people will win Battle of the 'Bos, one being the "Alpha Bo," and the other being the "Heart of the Pack."  Heart of the Pack is awarded to the contestant who raises the most money for their charity, regardless of how well they perform. The other winner, the "Alpha Bo," will be chosen by the senior judges based on how entertaining they were and their overall performance during the talent show!
You can buy tickets now at rmhs.booktix.com, at lunch, or at the doors for $8. Please come out and support your seniors, as well as the teachers and charities they have chosen to work with! This event has been rebranded to include everybody, and it is important that we represent.