ENGin Program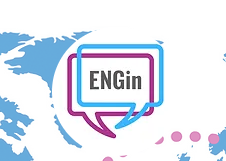 With the current complicated situation in Ukraine, the United States has been doing many things to assist the Ukrainian citizens. The ENGin Program is a non-profit program that pairs American students with Ukrainian students online to talk. It was launched in March 2020, and 19,500 people have participated to date. This is designed to help both students learn more about each other's culture and to assist the Ukrainian students with learning English.
To participate in this program, you must be 14 or older. Everyone is screened to make sure that they are a good fit for the program. Volunteers should be ready to dedicate one hour a week to ENGin for at least 10-12 weeks. The ENGin program's slogan states, "rebuilding Ukraine through 1-on-1 connections."
The application takes about 10 minutes, and after it is submitted, students will be contacted and asked for a 10-15 minute interview. Volunteers who pass the interview will be asked to complete the program agreement and create an account on the ENGin website. After that, they have to complete a 75-90 minute online training section and a final quiz.
"Four years ago, I absolutely could not stand learning English. I then started working with a tutor, but we never worked on English speaking. Having been talking with my foreign friend for over half of a year now, I am excited about every session as if it is the first time," said Yeva, on the ENGin website.
Due to the Ukraine conflict with Russia, no one who lives in Russia, Belarus, or occupied Crimea, are permitted to apply for this program. The website states, "We also cannot accept volunteers who deny or justify Russian aggression, oppose Ukraine's independence and full territorial integrity, or support the myth of 'brotherly nations.'"