Teacher Protest and School Funding
On Friday, May 6, a group of around 40 Rocky Mountain High School teachers performed a "walk-in" to protest the district's decision not to raise their cost-of-living wage. 
Every spring, district employees go through salary and contract negotiations for the following year. Each employee class gathers a union of representatives that propose their preferred salary and cost-of-living adjustments to the district;  negotiations start during the 3rd quarter and will last until an agreement is reached between everyone.
This year, during negotiations, the district decided to instead raise the cost-of-living wage for classified workers–such as secretaries, paraprofessionals, custodians, etc.–rather than educators. This would be good for classified, as starting pay for those jobs is not nearly enough to afford living expenses in Fort Collins. However, the starting pay for educators is not sufficient for living in the city, either.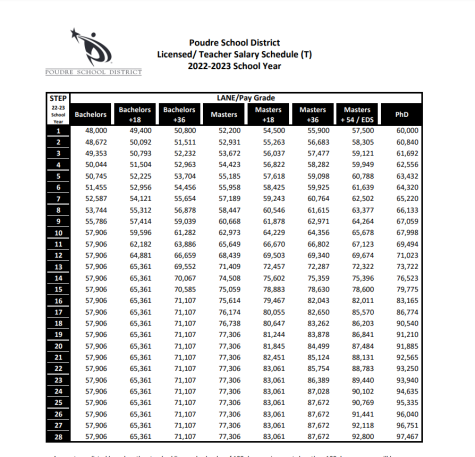 The district has different grids to guide how they pay their employees. Depending on their degree, starting pay for teachers can be anywhere from $44,000 to $55,500, as shown on the 2021-2022 teacher salary schedule. Teachers claim that the low end of that range is insufficient pay to afford to live in Fort Collins. That's why many performed the walk-in: f the salary schedules aren't raised, new teachers will not be able to cover cost-of-living expenses in the same city they work.
A large part of the trouble in negotiations this year is differences in opinions of priority. Some officials believe that classified workers need their pay scale raised, while others believe it should be teachers. 
In 2012, Colorado voters passed Amendment 64, which legalized marijuana for adults aged 21 and over. In 2013, voters approved Proposition AA that put up to a 15% sales tax on recreational marijuana, which goes to Colorado public schools for construction. Many citizens and district employees wonder why the district cannot take a portion of the money it receives from the marijuana tax to raise pay for teachers along with classified workers. 
First, the marijuana tax money is not a stable source of income. Sales tax always fluctuates depending on consumers. The district cannot depend on a fluctuating income to pay its employees. Additionally, the proposition made it so the money would be used for construction in poorer schools. In order to get this money, the districts must apply for it–stating what they need to build on their school properties in a sort of grant system. This system was designed to provide equity for poorer schools.
Teachers get a portion of their pay from "per-pupil funding." For every student enrolled in and frequently attending classes, the school gets a certain amount of money for teacher pay, lab materials, textbooks, and other expenses. The average per-pupil funding in Colorado is around $8,500. This means that per student enrolled in the school, the school gets that amount of money to spend on the student over the course of the school year.
Currently, enrollment is down in the district. This means that there is less per-pupil funding. This plays a large role in the district employee pay scale. Furthermore, the district doesn't yet know how much money it will receive for per-pupil funding next year. Negotiations cannot be completed until it is known how much financial support there will be for students.
Per-pupil funding is the reason attendance is so strongly encouraged for students during the fall. Often, it can be heard over announcements and teachers will give reminders to students, telling them to get to school and to do it on time. This is because a solid portion of employee pay comes from per-pupil funding. The more students at school when the district counts them, the more funds there will be.
Overall, school funding is a more complicated topic than people often realize. Districts have to consider many factors when it comes to money, and negotiations can take a long time. Most people want to be able to afford to live near their workplace.