How Ben Johnson transformed the Media Center
Nine years ago, Rocky Mountain High School's media center was drastically different. According to Rocky's media specialist, Ben Johnson, "…the majority of the space was taken up by bookshelves," and the cafe area was "…just a space to store broken technology." Upon arrival, Johnson wanted to instill change. 
Johnson was hired in 2013 after Dr. Woodall took his position as principal of the school. At the time, Rocky's media center functioned less like the current social spot and much like a traditional library. 
"When I got here in 2013, the atmosphere was very much 'no food or drink allowed, no talking allowed,' and not very much fun allowed," Johnson said. 
The furniture was old wood pieces, and one of the jobs in the library was to shush students causing disruptions.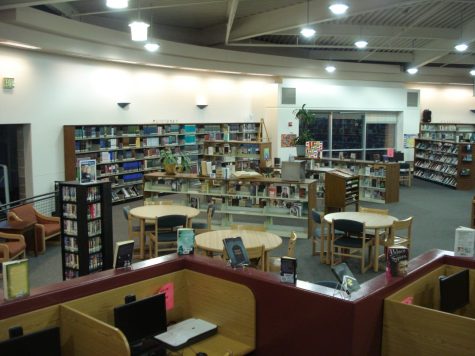 Piled behind the front desk of the library were stacks of broken TVs, projectors, and other tools. The first thing Johnson did was take all of them to the dump.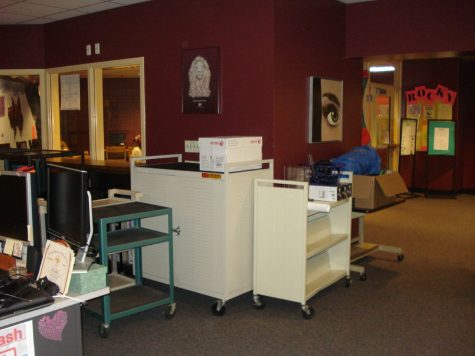 "I thought, let's make this a place where kids want to be," he said. 
This kickstarted the biggest change he made to the media center– installing the cafe. 
"At the time, the people that worked here with me were adamantly opposed," Johnson said regarding his cafe idea. Not only this, but gaining the approvals of the health department and district as well as purchasing the equipment, also rose as obstacles.
Johnson wasn't alone, however. Mrs. Lawrence, a wellness teacher at Rocky Mountain High School, and one of her classes volunteered their help. 
"We all came in one Saturday to paint the walls and decorate," Johnson said.
During and after the development of the cafe and dining area, Johnson also transformed the structure of the library. 
"Because everything is online now we don't need that much space for books," Johnson said. "I took away probably two-thirds of the books."
Students can now request a book be ordered to the library to be checked out free of charge- instead of media center staff having to guess what high schoolers would want to read, the students can simply tell them. Students can request virtually anything to be available for check-out, thanks to Dr. Johnson. For that reason, there are tools available to students from GoPros and VR headsets, to items as random as footballs.
"If students ask us for a book we know it'll at least be used once," Johnson said.
Modernizing the media center completely transformed it. Now, students filter in and out constantly–getting homework done, meeting friends, grabbing coffee, and studying. During lunch, movies are played on a projector for anyone to enjoy–Johnson has made the place into a completely different environment.
When Johnson was in school, his original plan was to go into woodworking. But he found that the world was beginning to lean less towards the physical realm and more towards technology, so he switched his path to tech-ed. 
"I love teaching and this position gives me an opportunity to do a little bit of everything," he said.
Johnson finds much of his inspiration in being active. He does just about everything– hiking, biking, canoeing– you name it. He has two kids and a wife he has been married to for 27 years and spending time with them is critical to him.
Additionally, he loves traveling. Johnson has visited 15 different countries scattered around the globe, his favorite being the Galapagos Islands.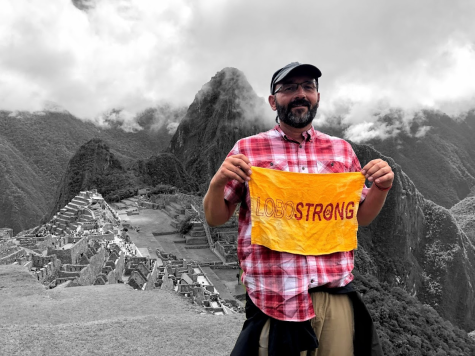 "I love travel and adventure, and I like to make stuff with my hands," Johnson said.
That is evident in how much effort he put into the media center. He truly transformed it into a unique and fun place for students to be.