Anti-Asian Hate Protest Held Outside of Rocky Mountain High School
Students and community members lined the corner of Swallow and Shields outside of Rocky Mountain High School (RMHS) to peacefully protest Anti-Asian hate on April 10th.
Rocky Mountain High School's cultural diversity and inclusion club, Cultural ARMS, organized the protest and asked students to come between 11:00 AM and 12:00 PM.
According to the RMHS Cultural ARMS Instagram (@rmhsculturalarms), they organized the protest in hopes of showing their support for the AAPI community due to recent hate crimes targeting the community.
With about 30 attendees, students and other participants held signs to passing cars reading things such as, "Stop Asian hate" and "Racism is a virus."
All participants were asked to wear masks and social distance as they held up their signs to passing cars. A donation table was also set up for people to donate or buy stickers. All donations and profits were a part of a fundraiser to help support the AAPI community.
People of all different genders, races, and ages participated in the peaceful protest, and cars driving by showed their support by honking as they passed.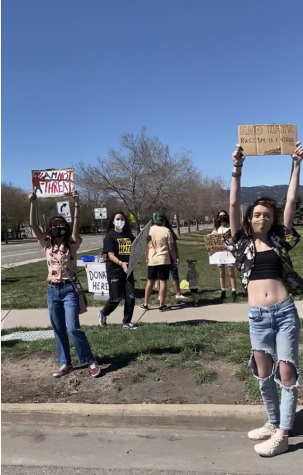 Rayne Bromley, a student at the protest, said that she saw the protest on social media.
"I saw it on Instagram and I've been seeing all of the hate crimes so I wanted to stand up against it," Bromley said. "I also liked seeing Rocky organize something like that."
Apart from a couple of dirty looks, Bromley said the feedback from the public was mostly positive and welcoming.
"The most [hate] we had was a couple of people shaking their heads at us. For the most part, they were honking and cheering out their windows. It was really cool."
Cultural ARMS pans to continue their public support for diverse, marginalized communities with a LGBTQ protest coming up in May.