Cultural Arms Club Expresses Support for Black Lives Matter in Demonstration
A Black Lives Matter demonstration, organized by Cultural Arms Club, took place Sunday on the corner of Shields and Swallow. The demonstration drew upwards of 30 students, teachers, and parents expressing their support for the Black Lives Matter movement. 
"I'm here to support the Black Lives Matter Movement and stand in solidarity with our school," senior Ben Dubin said. "I think the most impact you can make right now is working to fix your community on a small level so that you can go bigger. By impacting the Rocky community, we can make a difference."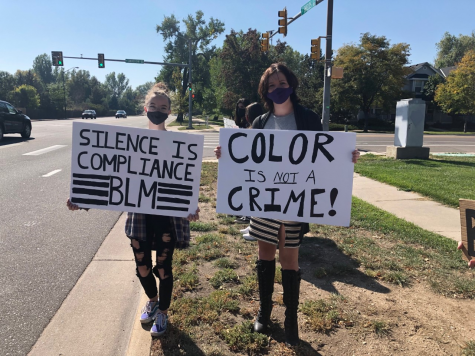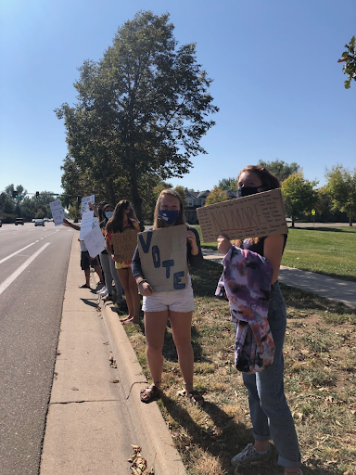 It comes after nationwide protests since June calling for an end to systemic racism and police brutality. Protests and demonstrations have also been taking place around Colorado–particularly in Aurora, where 23 year-old Elijah McClain died after being restrained in a dangerous chokehold by police. McClain was detained after a 911 call described him as looking "suspicious." 
"Cultural Arms chose to organize this because, as a club at Rocky, our main goal is to educate, advocate, and celebrate diversity which is completely something we see as the Lobo Way," Cultural Arms member Sydney Wang said. "What we wanted to do, and achieved, today is something that we could do safely with coronavirus in mind, but also being able to get people out of their homes and feel like they're contributing to something bigger than themselves." 
"Staying at home all day, looking at my phone, reading about Breonna Taylor, Ahmaud Arbery, George Floyd, just countless names – there's no end to it," Wang said. "It's something that makes you so angry and devastated, you want to do something. By just coming out of your house with a sign, being somewhere, supporting this cause, you feel like you're doing something better than just staying home. You contribute something more. You're really getting out there knowing that you're trying to do the best you can as an ally, because you know that you'll never understand as someone who is not Black."
"That's what Black Lives Matter really stands for," Wang added. "Knowing that we're here for these people, recognizing injustices in this community and that we want change to happen."
If you missed this demonstration and want to connect with Cultural Arms, contact Ms. Quiros at [email protected].