How To Eat Out: A Guide For Vegans
An easy guide, filled with tips on how to eat out when you're vegan, because that can be HARD.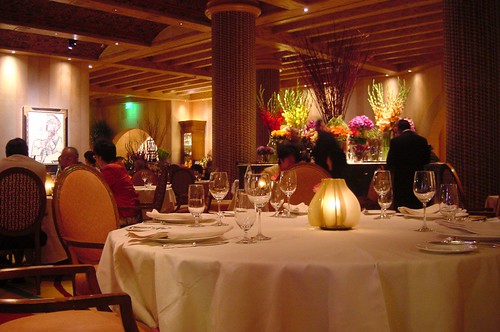 You know the drill, you're just hanging out with some friends, or family, when all of a sudden someone says those five deadly words: "Let's go out to eat."
As a vegan, you're severely limited on what you can and cannot eat, especially at restaurants. And you usually have your go-to, a vegan or vegetarian restaurant that you LOVE. But, when you're with a group of people who aren't vegan – or even vegetarian, being vegan gets just a little bit harder.
You know that that restaurant you'll wind up at probably won't even have a salad that's vegan, and you prepare for disappointment, plus the awkwardness that comes with your friends and family offering up things for you to eat – "If the Reuben doesn't work, how about some pizza?" – and you're going to have to explain veganism. Again.
That's why this guide is here! With these tips, you won't have to dread going out to dinner anymore, instead, maybe you'll actually enjoy it.
Don't Be Afraid To Ask
If you can't find something, and you're questioning what's inside your meal, ask, double check. I've struggled with telling my waiter or waitress exactly what I need, and even checking with them after my meal. Since becoming vegan I've learned that it's important to do so if it matters to me.
Or, if you absolutely aren't finding anything on the menu, call your waiter over and ask if they can make a certain meal vegan. Depending on the restaurant you're at (nicer, sit-down restaurants will do this) your waiter/waitress will happily oblige.
If your dish comes out with anything on it, don't be afraid to ask them to take it back, you should own eating what you want to eat. It's okay to send something back for that reason.
And remember to SPECIFY, SPECIFY, SPECIFY. If you ask, "Hey, can you make this dish vegan?" remember to check with your server about what veganism means. Too many times I've asked for something to be made vegan, but then neglected to mention what "vegan" really means. Don't be afraid to say, "Can I have this vegan? Without any dairy, meat, or eggs, please?" Remember to thank them for it, because it's not always easy for them either.
Be Prepared
Should things not work out, just be prepared. Take a granola bar, eat beforehand, or even have a backup plan at home if you can't eat anything. This way, you don't have to be such a Debbie Downer about the fact that you can't have anything at this restaurant. Just be prepared for what's coming and you'll be fine.
It's also important to be prepared for the fact this restaurant won't have anything for you, and not to let that get to you too much. Just as well, don't let family and friends get to you, and try not to go full on "angry vegan" on everyone. It can be hard when you care about animal rights, and the environment to see some people you love order anywhere from $10-$200 worth in dairy, meat, and eggs, and then they question your motives. Keep your cool, and try not to let it bother you too much.
There's been plenty of times that I've wanted to cry seeing all this non-vegan food at restaurants, and then seeing my family and my friends order a ton of it. It's sad, and you care, and it's hard to ignore that, especially when people try to poke fun at you, when veganism isn't always funny.
Before you arrive at the restaurant, look up the menu and see what you can and cannot have, there should be something, and if there's not, have your bar on hand, or just ask for something to be made vegan.
Choose Some Restaurants YOU Love
Have a go-to. Where I live, there are, maybe, two incredibly good vegan restaurants that I absolutely adore. Have that go-to in mind when you're going out to eat. If people are asking where to go out, suggest those restaurants; this way at least your option is out there.
It's okay to embrace being vegan and be willing to try newer vegan restaurants. As veganism grows in popularity, tons of vegan restaurants are opening, keep that in mind when you're checking for a place to eat.
If you're scared someplace has nothing, ask to see if they have a vegetarian menu. Apparently, plenty of restaurants have them, and it doesn't hurt to check; this way you can find something you LOVE and want to eat.
Get Funky + Have Fun
Select several sides and throw it together for a meal, sides are often vegan and this can be a fun way to have several options that make for a tasty meal! Don't be afraid to just go for it!
Eating out doesn't always have to be god-awful, you can have some fun with your food; just have some confidence in the fact that you're vegan and you'll be fine! If it's really going to be bad, just throw a frozen Amy's pizza in the oven and have a nice evening. Remember to not get so down about it and have fun with your friends and family because they love you, and you love them, and at the end of the day, what you ate or didn't eat isn't really going to matter, but if you shared a good laugh, that will. So have some fun, take some risks, and just be prepared and you'll have an awesome time as a vegan trying to eat out!
See Seeber's website for more stories.