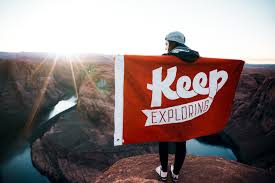 Ahhhh, yes, the time has come for the moment that the last 13 years of education has been pushing us towards…graduation. At last, we're free from the confines of standardized education, and for most high schoolers, the next step into our adult life is going straight into the next four years of education, but that is not the only option to start your future.
Times are changing and more and more young adults are choosing to put college on the back burner and opting to take a gap year. Most on this path set out with hopes to gain more life experiences and work on self development before settling into education for a career.  
This concept may throw off some adults, to not set out with a degree on the horizon, but personal development and growth is becoming the new successful pathway into life.
I have found that the idea of a gap year is more of a new concept in America, but there's good reason for its growing popularity.
With the price of college being ever so high today, the choice of a gap year can help save students money in the long run. To some, a gap year may seem like a wasted year, but what you can learn during that time may be priceless. A break in between high school and college has been shown to give students more confidence and independence, give them good working experience, and make it less likely for them to burnout in college.
With this being said, I have decided to take a gap year for myself, working in Australia, where a gap year is extremely common. With this prospect on the horizon, I am equally as frightened as I am excited. I know that this upcoming journey will push me to grow as a person more than any experience I have encountered so far in my life. I chose to follow this path because I knew I wasn't ready to jump into an expensive educational endeavor without knowing more about what I want from my life and where I hope to go in the future.
If you are interested in looking into more information about gap year programs, you can check https://usagapyearfairs.org/programs/  or https://www.gapyear.com/  or just type your dreams in the google search bar and see what you can find.