Wellness Day
Hang on for a minute...we're trying to find some more stories you might like.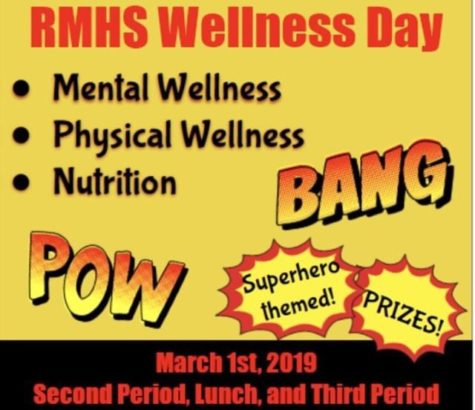 The annual RMHS Wellness Day is coming up and here's what you need to know.
Wellness Day is on March 1st, and will be open during second period, lunch, and third period. This event will be in the Rocky commons. Be sure to ask your teachers if you can go and plan to stay at Rocky for lunch so you don't miss out.
This fair will be all about mental health. There will be games and booths to teach Rocky students ways to be mentally healthy and physically healthy. You will be able to earn tickets by going to the booths and by playing games. These tickets can be used to enter drawings  for prizes.
Some of the activities that will be at the fair are therapy dogs, partners yoga, self defense, first aid, mindfulness, aromatherapy, fitness fun, nutrition info, stress management, coping, and many more.
While the fair is going on, you can also earn extra tickets by bringing in a pair of new socks for the McKinney sock drive.
"I went to the fair last year and it was super fun," Fiona McPhail a Rocky sophomore said.
The RMHS Wellness Day is on March 1st. This will be a fun day at Rocky and a great day to learn more about wellness. With all of the games and activities, there will be something for everyone. This is something you should definitely check out.