Being Green: What to Recycle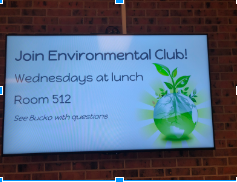 Hang on for a minute...we're trying to find some more stories you might like.
Unless you have been on another planet for the last century, then you have probably heard of recycling. Recycling is the process of breaking down and re-using materials that would otherwise be thrown away as trash. Many communities make it easy to recycle by placing recycling containers in public open areas, or by providing bins for home and business owners who have curbside pickup.
At Rocky we are very bad at recycling. A lot of Rocky students seem to think that trash goes in recycling bins. Rocky, instead of just finding a way to get rid of your trash and recycling, take the extra five seconds to put things where they belong. The Rocky Environmental Club has worked very hard to start a new recycling initiative this year. Environmental Club asks you to help be green by recycling the right things.
There are only four things to remember to recycle:
White Paper

Clean Cardboard

Empty Cans

Empty Bottles
When students put trash or any items that are not included above, the whole recycling bin is contaminated and has to be thrown out with the trash. This defeats the purpose of recycling. It's up to us to get it right so that the program works.
Environmental Benefits
By recycling people can prevent millions of tons of material from

enteri

ng landfills, saving

space for garbage that cannot be repurposed. Landfills not only pollute the environment but also hamper the beauty of the city.

The

pollutants released into the air

and water can be greatly reduced with an increase in recycling.
Recycling greatly reduces the amount of energy used daily by lowering the production of new materials. In short, recycling reduces the greenhouse gas emissions into the atmosphere.
If for absolutely nothing else, recycling keeps litter overflow to a minimum which keeps the Earth looking beautiful.
For more information on recycling, check out this website. https://www.conserve-energy-future.com/why-is-recycling-important.php