Rocky and vaping– what's going on?
On average, Rocky Mountain High School deans confiscate two or three vapes and other drug devices from students per week. The school has various courses of action for students who are caught in possession of these articles regarding addiction recovery programs, counseling, and punishment. However, drug use in the school is continuing to be a dominant concern for the deans.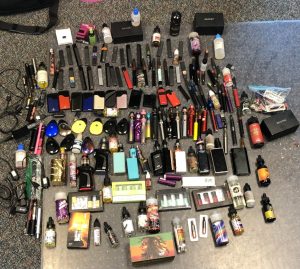 A significant concern for the deans pertaining to this matter is the utilization of the bathrooms for drug-related activities by students. Dean of Students Russell Stapleton is troubled by the use of bathrooms for this because of the kind of environment it can create. 
"My biggest concern is the potential rudeness that comes with those group activities in the bathroom," Stapleton said. 
According to Stapleton, drug-related interactions in the bathrooms can often create an uncomfortable situation for those who don't intend to partake. 
As stated by David Asevedo-Smith, a math teacher at Rocky, many bathrooms in the school have been shut down due to drug-related issues. Of the bathrooms near the senior doors east of the school, the women's bathrooms have been shut down for an extended period of time. In addition to this, the single-stall gender-neutral bathrooms by the science rooms, northeast of the school, have both been closed and locked until further notice.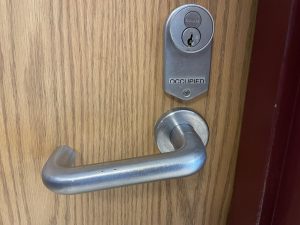 Aside from this particular, Stapleton said that he and his fellow deans endeavor to be as empathetic as possible to those with addictions to nicotine and other substances– especially after the first lockdown in 2020 when everyone was isolated at home.
"We try to be manageable and understanding that a lot of people got re-addicted to nicotine when they could do whatever they wanted–which is a real mental struggle to quit," Stapleton said.
For those who have formed those addictions, the district rules–and consequences respecting violations of the rules–are written within the Poudre School District's Student Rights and Code of Conduct. 
The first violation listed is having possession of alcohol, less than one gram of marijuana in its natural form, unauthorized over-the-counter drugs, drug paraphernalia (objects required to make use of drugs), or being under the influence of any of these.
The second violation of the Code of Conduct is listed as having possession of unauthorized drugs not sold over-the-counter, one or more grams of marijuana in its natural form, any amount of marijuana not in its natural form (edibles, wax, etc.), or being under the influence of any of the previous.
The final violation lists "purchasing, distributing, exchanging, giving, or selling all drugs except for those sold over the counter."
The consequences for violations range from suspensions less than a week to immediate recommendations for expulsion. The district also offers drug and alcohol programs and counseling for certain situations that are specified in-depth on the District Code of Conduct–which can be found at https://www.psdschools.org/sites/default/files/PSD/school_services/Student%20Rights%20and%20Code%20of%20Conduct/SRCC_2021-22_eng-FINAL.pdf. 
Jaelyn Manzanares, another dean at the school, hopes "that students are going to start making choices that benefit their health, benefit them socially, and benefit them academically."
"Regardless of if you're uncomfortable or not, you can always come to us and just communicate that it's happening," Manzanares said, "I also think it holds a lot of power when you communicate with your peers that it makes you uncomfortable."
"It's always an option to tell an adult."